Top 3 Best Car Trash Cans Trash Bags Garbage Bins You Must Have
Many people are driving around in messy cars. They are just one step away from a tidy and clean car interior – use the best car trash can. When buying trash cans for your car, remember to choose those that are made of durable, high-quality materials that prevent stains, spills, and are easy to clean. Also think about the most convenient spot in your vehicle to install it: many car garbage cans are equipped with adjustable belts that can be used to firmly fix the trash bag to the headrest, console, or gear lever, while other trash cans are specifically used for certain places in the car, like cup holders. Other useful product highlights include waterproof lining, storage pockets, tissue holder, and foldable design.
It is essential to pick a trash can that is easy to clean and maintain, as trash can become messy and smelly. Most car trash bins can be wiped clean, rinsed under water, or put in the washing machine. Durable exterior materials like nylon, thick polyester, Oxford fabric, and plastic can withstand the wear and tear of frequent use, and products boosting waterproof and leak-proof linings help to avoid liquid leakage.
What's more, trash cans featuring lids with flap, Velcro, and elastic closures can keep garbage out of view while cutting down on unpleasant smell. Some lids are closed completely, and other lids have convenient openings where you can throw trash without opening up the entire trash can.
If you tend to throw things everywhere in your car and often cannot find the very item that you need, you will love a trash can with extra storage pockets that can store your gadgets. To save car space, consider a miniature or collapsible garbage can that can be easily folded up when not in use. Car trash cans are designed to fit in a variety of vehicle models, from minivans, trucks, to SUVs. With the best car trash cans, you will get a clean, tidy, and organized car environment.
Leak-proof and Collapsible Car Trash Can With Lid and Pockets
Saniwise Car Trash Can with Lid and Pockets
This car garbage can holds about 1.85 gallons of trash — and its collapsible shape means you can store it out of view under your seat or in the trunk when not in use. The lid's opening has a convenient rubber flap closure, the exterior is made of nylon, and the waterproof interior lining that protects against any accidental spillage and is easy to wipe clean. The front and side pockets can hold small gadgets you want to keep close at hand. This durable, multipurpose car trash can features adjustable straps to hang onto any headrest, handle, or console.
Promising Amazon review:
"Bought 2 of car trash cans for my grandsons, after seeing the floor of one of their cars.
They hung them on the back of the front seat headrest. Does not effect leg room at all. One uses it as a cooler for work drinks. Plenty of little pockets for kid stuff too. Small toys, or sippy cups. Oh..... the trash can part is great for the ones who eat fast food in the car to get rid of trash."
Machine-washable Compact Trash Bag
IPELY Universal Car Vehicle Back Seat Headrest Litter Trash Garbage Can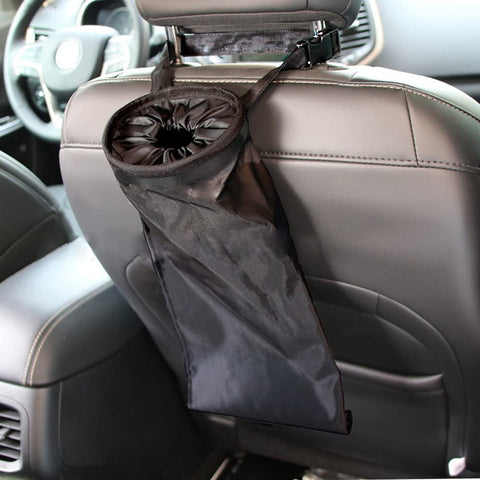 This garbage can is ideal for collecting small waste items. The bottom of the trash can features a Velcro closure that makes it easy to empty out, but that also means it isn't waterproof or leakproof. With an elastic opening, adjustable strap, and slim design, this low-maintenance trash bag can be attached to any headrest or gear shift. The wrinkle-resistant Oxford fabric is both tough and machine-washable, making it easy to clean.
Promising Amazon review:
This item is not very big but decent size for the car. I posted a picture of it beside a regular sized envelope. The bottom is sealed off with sturdy velcro, the top has an expandable opening, and there is an adjustable strap for any length.
Mini Trash Bin for Car Cup Holder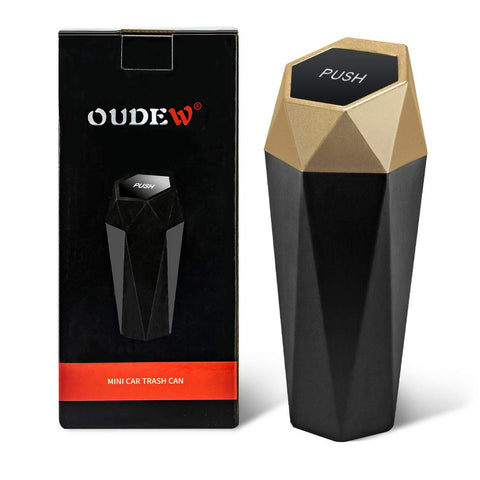 This cute miniature trash can is compact enough to fit in a cup holder (or in many door consoles). The diamond-shaped silhouette adds a fashionable touch. The hard plastic design means it won't leak. Use the push-down flap lid to insert wrappers, papers, tissues, and other small pieces of trash. To clean, wash it with water and soap or your preferred disinfectant.
Promising Amazon review:
My mini trash cans just came in and I'm in love! They are sooo cute they would make a perfect gift for new drivers or hs seniors! I am so excited to use them they will look so cute in my car and I can finally keep it clean instead of having recipes or wrappings taking over the cup holders.
Leave a comment