How To Prepare Your Car For A Long Trip - Tips For A Perfect Road Trip
Road trips can be a rewarding experience with a little planning and outside the box thinking. With some planning and creative thinking, road trips can be a rewarding experience. While playing favorite music and games, driving down endless roads with your loved ones will produce lasting memories that families and friends will cherish forever.
During the time of coronavirus pandemic, more and more people choose to take road trips when there are no concerts, sporting events, festivals, or large gathering. Mobility trends data released by Apple Maps has shown that people are already requesting routes at the same rate pre COVID-19. Instead of going to the city, they're moving to open roads, the mountains, lakes, beaches, etc. Trying to get out of the house and engage in an activity that will have minimum contact with other humans.
The United States, with interconnected highways, interstates, and back roads, is an ideal country for road trips. We recommend that you take a different course in your car and see the world!
However, anything could ruin your perfect travel plans, for instance, having your car break down hundreds of miles from home. Holidays should be a time for fun and relaxation, but in most cases, the difference between pleasure and suffering lies in whether or not you have taken the appropriate steps to prepare your car for the long journey. Before leaving home, you can take a few simple steps to protect your vehicle, travel, and loved ones.
First of all, work on your own car.
Before hitting the road, you should tackle each of these quickly:
Change oil and filter
Change air filter.
Check cabin air filter because you don't want a musty odor coming from your vents.
Cover headlights and front of the car with a protective sheet to prevent bug clogs or other damage.
Get an extra set of car belts.
Change spark plugs.
Check your spare tire.
Pack a fire extinguisher.
Fix sun protectors for side windows and front windshield.
Make certain your tire iron and jack are in the car.
Make sure your car is clean before beginning your trip, both inside and out.
Keep a small garbage bag inside the car.
Bring towels for cleaning dirty windshields, spills, etc.
Get a spare key for the car and keep it in your wallet or elsewhere on your person in case you lock your keys in the car.
Make sure you have your podcast downloaded (you may lose service), music library up to date.
Check all the necessary cables; Car charger for your phone, auxiliary cable if applicable, USB cables, camera chargers, Go Pro chargers, drone chargers, etc.
If you're a lover of photographs or videos, never forget those tiny, yet vitally important memory cards.
Bring your sunglasses.
Always fill your gas tank when it is half full. Don't wait too long.
Make sure your owner's manual is handy.
Try not to put luggage over the car. It creates airt friction and slows you down – bringing more gas. If it is unavoidable, cover with strong sheet and tie them very well.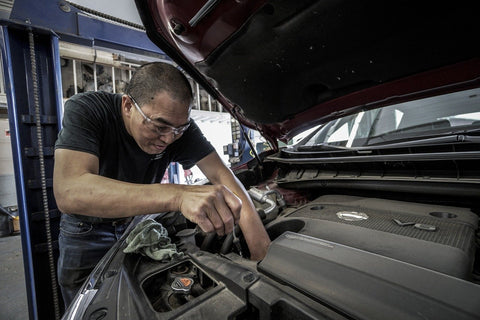 Besides, you should also carefully pack your car survival kit. See the checklist of the emergency items below:
Flashlight
Screw drivers and wrenches of different sizes
Bungee cords
A chain or thick towing rope
Electric charger wire
Pliers
Hammer
Once your car is on the highway, there are some effective driving tips. Diver's condition maters as much as the car's. Don't forget to interact with the driver. Talking helps the driver stay engaged, motivated, and awake during long-time driving.
Understand your limitations and plan your trip based on them. If your longest drive ever is 300 miles a day, don't plan driving 500 miles for several consecutive days. Whether you can ride 500 miles or 1,000 miles a day, your ability to make miles will decrease as the length of your increases.
Don't drive on high speeds. Stable drivers can ride more miles, enjoy more mountain views and drive more twists and turns than those who would like to spend their best time on passing a mountain. Also you can save gasoline in the long run.
If you get tried, pull your car over and take a rest. Don't count on Red Bull or coffee. If it's in the afternoon, take a nap of around 30 minutes. If it's at dusk, find a motel. Don't risk your safety if your body is telling you to have a break.
Play your favorite radio show or music to kill boredom. Whendriving across areas where you might not consider prime spots during long trips, just play your favorite podcast, standup comedy, up-beat music, or audio bookin your car to make those long miles go by a little faster.
Last but not least, get away from trucks on the open road. Truck drivers don't like people following them. When you are behind a truck, you literally become their responsibility. Never tailgate. Truck drivers will stop paying attention to the road and start to worry about the people on their tailgate. Then accidents will easily happen.
You are in need of premium car trash can for your perfect road trip! Saniwise car trash cans are equipped with a soft rubber lid and three storage pockets that can hold your used cups and water bottles and store your accessories and gadgets. Waterproof lining keeps your car interior free of liquid spills and stains. Check the inventory of this multifunctional portable auto trash bag today!
Leave a comment